Hieronder vindt u onze CD's, met een paar geluidsfragmenten. Onze twee meest recente CD's zijn te koop als echte CD of als digitale download. Onze eerste CD is alleen op speciaal verzoek nog leverbaar. Heeft u vragen over de CD's of wilt u graag CD's bestellen? stuur dan een email naar secretariaat@doemarwa.nl.
CD's kosten 7,50 euro per stuk, of twee voor 12,50 euro (exclusief verzendkosten).
Digitale downloads van de CD's kosten 5,00 euro per stuk, en alle drie samen voor 12,50 euro.
Keep on the Road
Uitgebracht: 4 oktober 2009
10 Jaar Doe Mar Wa
Uitgebracht: 23 september 2003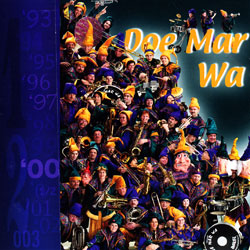 Guuggelogie
Uitgebracht: maart 1999