What is Doe Mar Wa?
Doe Mar Wa is a band from Bakel, the Netherlands that was founded in 1993. The name Doe Mar Wa is dialect from Brabant, and means something along the lines of 'just do something'. Luckily for us, by now we are doing much more than 'just something'. What makes us special is that we are unique in the Netherlands. We are what is called in Switzerland a 'Guggenmusik'. A band that characterizes itself with very rhythmic and swinging music, while wearing astonishing costumes (to drive away the bad spirits). Because our kind of band is so uncommon here, we have music written specially for us, another factor that makes us unique. We have songs from many artists including Guns 'n Roses, Greenday, Robbie Williams, Earth Wind and Fire, Iron Maiden, Bon Jovi and many more.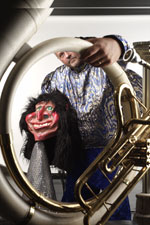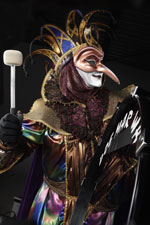 Repetitie GEA- Bakel 2013 Terug
Videos
By clicking the following button, you can find videos of us playing. These videos can also be found on youtube.
We are looking for new members that can play specifically the trumpet, trombone or saxophone, but any instrument is welcome to join. Rehearsals are in Bakel, every friday from 20:30 tot 22:30.